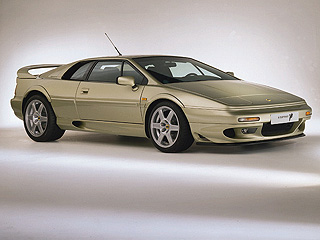 Lotus Esprit V8

Base Price: $149 000
Top Speed: 176 mph
HP: 350
0-60 mph: 4.8 seconds

The Lotus Esprit V8 proves that you don't have to spend a million dollars to get great performance and a luxurious interior.
The Esprit V8 recieves its power from a 3.5 litre, 32 valve, twin-turbo Garrett T25 V8 aluminum block engine. The engine produces 350 HP and allows the car to rocket to a top speed of 176 mph.
However, like all cars, the Lotus Esprit V8 is not perfect. One problem with the Esprit is the fact that it is a rare car and therefor it is very expensive to repair. Another issue is the somewhat "average" British craftsmanship. Many Esprit V8 owners agree that it is not to smart to drive this car very fast because if you happen to hit a pothole parts may fall off.
Overall, the Lotus Esprit V8 offers handling that few cars can match at a refreshingly low price.