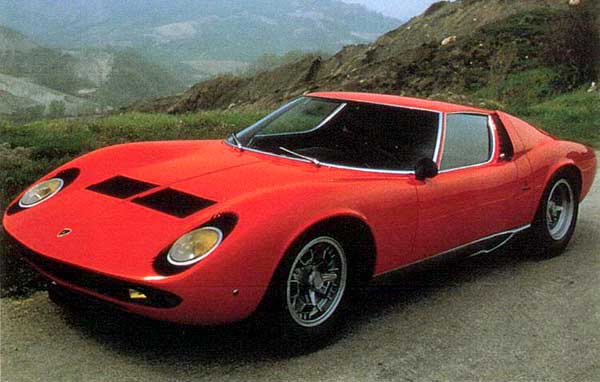 Lamborghini Miura

Base Price: $16 000 (in 1967)
Top Speed: 171 mph
HP: 385
0-60 mph: N/A

At the 1966 Geneva Auto Show the Lamborghini Miura created a sensation and why shouldnt it have. Featuring innovations such as pop-up headlights and a midmount engine that set the standard for future supercars and set the Miura far ahead of its time.
Using a modern double-overhead-cam V12 engine to achieve its amazing specifications, the Miura could reach a top speed of 171. Since the Miuras engine was mounted in the middle, the car had a perfect balance between speed and handling. However all this power did have a downside as axels broke under the cars incredible torque until some design changes were made for safety.
Overall the Miura, like all Lamborghinis, was the most outrageous car of its time.